November 2011 – All Printing Resources, Inc. (APR), working in conjunction with SpotOn! Press, is introducing the latest industry innovation: a new pressroom software tool that flexographic press operators can use to target optimum density for spot colors. SpotOn! Flexo is new leading-edge technology that makes it possible to get optimum color reproduction and density information for any spot color, right at your fingertips.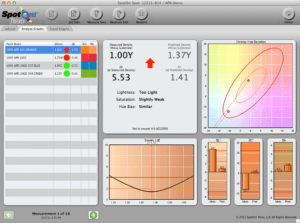 "There's always been a challenge in printing spot colors because of the lack of density information available to the press operator," says Richard Black, Director of Digital Solutions for APR. "That is why we have teamed up with SpotOn! Press to create SpotOn! Flexo. SpotOn! Flexo is a software package that utilizes spectral data to determine the best ink density for optimum color reproduction, allowing the press operator to run a spot color to match a customer's approved color."
"Creating specific tools for differing types of printing methods has always been a goal of SpotOn!," said Bruce Bayne, creator of SpotOn! software. SpotOn!, a process control software to aid in printing to specifications, was first released in 2008 and has been a leader in evaluating printing conditions to ISO and G7 methodologies. "We were pleased to team with APR to create just the right tool for the flexographic market," added Bayne.
SpotOn! Flexo compares the spectral data of a color measured on a press pull (using a spectrophotometer) to the spectral data of the reference color. A quick calculation gives the press operator the optimal density to obtain the closest (lowest Delta E, or δE) match to the reference color.
There are many time-saving and cost-cutting benefits of SpotOn! Flexo software. A major benefit is the reduced press "make-ready" time trying to obtain the correct color match to a spot or custom/brand color.
Other benefits include:
More consistency by monitoring the spot colors versus the reference color throughout a run
Accurate monitoring to help your pressroom team foresee potential issues, such as changes in ink viscosity or pH
Timely troubleshooting of doctor blade wear, anilox roll plugging and plate wear
SpotOn! Flexo provides the density of the reference color as well as the density from the press pulls and provides the press operator the 'optimal' density required to obtain the best color match. A simple user interface also shows the press operator if they are within the color match tolerance created for the specific print job.
Reference colors can be imported from ink formulation software as .mif or CxF files, or they can be measured using a spectrophotometer that reports spectral data. The software supports most major handheld spectrophotometers.
"Companies today place a very high priority on dynamic and engaging packaging that differentiates their products from others on the shelves. Spot or non-process colors are extensively used, but press operators have had few optimization tools," says Dave Nieman, APR CEO. "So we are absolutely thrilled to offer SpotOn! Flexo as a solution to this challenge. We are confident this industry innovation will change the way flexographic press operators print spot colors."
For more information on SpotOn! Flexo software, visit www.spoton-color.com.
About SpotOn! Press
SpotOn! Press, LLC is a software developer for the printing and graphic arts industries. SpotOn! is a calibration and process control software tool for the proof-to-press process and was released in 2008. Bruce Bayne, founder of SpotOn! Press, has over 30 years in the printing industry and is a GRACoL Certified Expert. Bayne specializes in color management and prepress workflow hardware and software solutions. He uses this experience to create unique and valuable software tools to empower users to measure and manage color. SpotOn! Press is headquartered in Portland, Oregon. Learn more at www.spotonpress.com.
About All Printing Resources, Inc (APR)
All Printing Resources, Inc. (APR) is a proven resource for solutions, trusted service, and support to the flexographic printing industry that delivers measurable performance enhancements and total cost reductions including the after sale attention needed to see optimal results. APR represents some of the most innovative product lines worldwide and takes a "team" approach to deliver process improvement and innovative solutions. For more information about APR, go to: www.teamflexo.com.