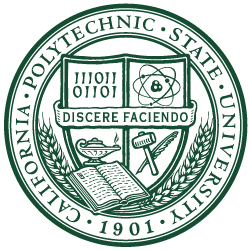 California Polytechnic State University (Cal Poly) Graphic Communication program has recently received a donation of SpotOn! Flexo software and training from APR and SpotOn! Press. This donation to the university's program is a new tool that will help further the education of their graphic arts students in the area of flexo print technology, pre-press processes, and quality control.
SpotOn! Flexo is a software package that addresses a common issue—the lack of spot color ink density information available to the press operator. Using SpotOn! Flexo, the operator can use spectral data provided from a spectrophotometer and get optimal density information, for a spot color to match a reference color.
"We are really pleased to offer Cal Poly the latest industry innovation: a new pressroom software tool that flexographic press operators can use to target optimum density for spot colors," says Richard Black, Director of Digital Solutions for APR. "SpotOn! Flexo is new leading-edge technology that makes it possible to get optimum color reproduction and density information for any spot color (including C,M,Y,K), right at your fingertips."
The new donation will be used as part of the school's Flexographic Printing Technology course. Cal Poly, located in San Luis Obispo, California, has an industry-leading education program in a variety of printing methods and technologies.
The Cal Poly Graphic Communication curriculum focuses on various printing methods, and specific applications to the management and technical function of flexographic printing technology. Cal Poly's Flexography course includes laboratory sessions, where SpotOn! Flexo will be featured in a hands-on demonstration of this new technology for students considering a flexography printing career.
"APR is a great supporter of education, and we appreciate their partnership in helping us educate our students with innovative solutions, SpotOn! Flexo is such a great addition to our program because it's new technology that simplifies the process of matching color on press.

We are delighted with how our students can immediately see if they are in spec or out of spec, and whether simple changes in ink metering can achieve the delta-Es required. We use SpotOn! Flexo in both our academic programs, as well as our industry workshops. It is a vital tool for reducing make-ready time and ensuring process control throughout a press run."

Malcolm Keif, Professor - Cal Poly Graphic Communication Department
"Creating specific tools for differing types of printing methods has always been a goal of SpotOn!," said Bruce Bayne, creator of SpotOn! software. SpotOn!, a process control software to aid in printing to specifications, was first released in 2008 and has been a leader in evaluating printing conditions to ISO and G7 methodologies. "We are pleased to team with APR to donate this technology to Cal Poly," added Bayne.
About Cal Poly's Graphic Communication Department
The department (www.grc.calpoly.edu) was founded in 1946 and is one of the largest and best-known programs of its kind in the United States. It includes concentrations in graphic communication management, web and digital media, design reproduction technology, graphics for packaging, and individualized study. The program is strongly supported by industry with grants and endowments and with equipment, supplies and software for the department's more than 33,000 square feet of modern laboratories. The department is accredited by the Accrediting Council for Collegiate Graphic Communications. The Graphic Communication Institute at Cal Poly (www.grci.calpoly.edu) focuses on services for industry, including research, testing, product evaluations, consulting, training, seminars, workshops, conferences and publishing.