Industry-Leader Adds
SpotOn! Flexo

Capabilities
Tension Corporation has deployed leading-edge technology that makes it possible to get optimum color reproduction and density information for any spot color

As a leader in envelope and packaging and automation solutions, the ongoing mission for Tension Corporation is to continually and consistently live up to a longstanding and industry-renowned heritage of quality printing. As a family-owned and -operated business founded in 1886, this growing organization has expanded its presence in packaging and automation, as well as its increasing footprint in international operations. Today, Tension has grown to become the third-largest domestic envelope manufacturer and holds more patents on products and processes than all of the other envelope manufacturers combined.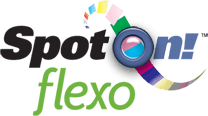 SpotOn! Flexo is a pressroom software tool that flexographic press operators can use to target optimum density for spot colors.
For more information, visit: www.spoton-color.com
With its long history of adapting and improving its printing processes to meet the demands and needs of its customers, Tension recently contracted All Printing Resources to train and deploy SpotOn! Flexo. This new technology adds capabilities to their pressroom operations that make it fast, easy and precise to get optimum color reproduction and density information for any spot color, including C,M,Y,K. This software solution is designed to be easily integrated into any pre-press operation.
"Our clients demand exact color matching," says Karen Loggia, Director of Marketing at Tension Corporation. "It's critical to their brand identity and image to have the colors on the envelope specifically match the specific colors in their logo. Slight variations can cause brand degradation over time. We share the commitment to maintaining our customers' corporate image. SpotOn! Flexo allows us to reach a level of spot color precision that the human eye can't do on its own."
In late 2012, driven by ongoing quality efforts to ensure consistent spot color printing, as well as customer requests for color verification and assurance of custom color integrity throughout a run, Tension Corporation turned to their longstanding solution partner, All Printing Resources (APR) for a solution. Working with Richard Black, Director of Digital Solutions for APR, they began to look at integrating SpotOn! Flexo at their flagship Kansas City facility.
After the successful integration of this leading software in Kansas City, a multi-training session with representatives from all their facilities helped to roll out the solution organization-wide. With its easy-to-use interface and user-friendly features, SpotOn! Flexo was quickly adopted and integrated into every phase of their flexo printing, from pre-press to job setup to production. Today this solution is being used daily throughout Tension Corporation.
A Custom-Color, Quality-Assurance, Time-Saving Tool
About Tension Corp.


Tension Corporation is a leader in envelope and packaging & automation solutions, selling directly to businesses and organizations nationwide. Headquartered in Kansas City, Missouri with sales and manufacturing facilities across the country and around the globe, Tension is a family-owned and -operated business that has enjoyed ongoing stability and growth since it was founded in 1886. The privately-held company employs more than 1,000 associates globally.
For more information, visit: www.tension.com
Tension Corporation's history was born and continues to be driven by the mission to deliver quality printing. With a core of loyal customers with custom colors not in the PMS book, SpotOn! Flexo became another tool in their toolbox for ensuring consistency.
"We're very excited about it, and proud to have SpotOn! Flexo as another tool in our toolbox," says Donovan Dowty, manager, pre-press department, Tension Kansas City facility. Donovan cites the example of a customer that is a major clothing retailer that used a very well-known pink color in all product packaging and marketing. It was a customer pink that was key to maintaining their brand identity, yet very difficult to maintain in a production run.
"With the use of SpotOn! Flexo, we can runs jobs like this much better without any downtime," says Donovan. "This particular custom pink color requires fine-tuning to get it exactly right. But, once you have all the specifications captured, you can verify it with SpotOn! Flexo throughout the run. And, since ink can easily shift light or dark very easily throughout a run, it helps keep the color right. Plus, it's helped us streamline the process, which used to be more manual and time-intensive. In some cases, jobs that would take us hours, now take closer to an hour or less, sometimes significantly less."
A major benefit of SpotOn! Flexo is the reduced press "make-ready" time trying to obtain the correct color match to a spot or custom/brand color. The software provides the density of the reference color, as well as the density from the press pulls, giving the press operator the "optimal" density required to obtain the best color match quickly and easily. A simple user interface also shows the press operator if they are within the color match tolerance created for the specific print job.
More Benefits
"Printing spot colors is always a challenge because of the lack of density information available to the press operator," says Richard Black, Director of Digital Solutions for APR. "That is why SpotOn! Flexo was the ideal solution for Tension. They needed an efficient solution that could be easily deployed throughout their very large organization to help their pressroom determine the best ink density for optimum color reproduction. Most importantly, SpotOn! Flexo will help them ensure spot colors are precisely run to match a customer's custom color."
Loggia says, "Being able to determine appropriate color in pre-press processes decreases costly production adjustments further down the print run, avoiding waste in the form of ink, time and paper."
Continuing to Lead in Print Quality
Adding SpotOn! Flexo technology has helped Tension Corporation:
Meet the color management requirements of some of it largest customers, particularly those with custom colors that are tied to their brand image and identity
Reassure customers that its flexo printing will continue to visually match the offset output
Put a defined, measurable and standardized pressroom process in place that was easily rolled out and adopted organization-wide
Reinforce and enhance existing process controls