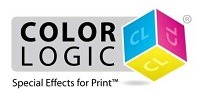 August 2014 - Color-Logic has named All Printing Resources (APR)--the exclusive North American distributor of SpotOn! Flexo--a technology partner.
Announcing the partnership, Color-Logic Director of Sales and Marketing Mark Geeves commented: "With the Color-Logic Process Metallic Color System, label printers and converters can print their own color charts, showing the 250 metallic colors available with Color-Logic. The color charts incorporate the attributes of the substrate, inks, and coatings used, as well as the inherent characteristics of the individual press. Because the color charts were produced on a specific press, the client, the label designer, and the printer expect specific results. However, meeting these expectations requires pressroom control. SpotOn! Flexo is an easy-to-use process control tool with a powerful visual dashboard that tracks ongoing press conditions. On-press process control is a huge issue in flexographic printing, and SpotOn! Flexo is an excellent product which enables label printers and converters to achieve consistent and reproducible color from their flexographic presses."
APR Director of Digital Services Richard Black, also commenting about the partnership, said: "The Flexographic Technical Association recently named SpotOn! Flexo winner of the FTA 2014 Technical Innovation Award in the Prepress Pressroom category. Licensed Color-Logic flexographic printers are finding SpotOn! Flexo a valuable pressroom tool to ensure Color-Logic files are being printed properly and consistently. As the exclusive distributor of SpotOn! Flexo in North America, APR is pleased to partner with Color-Logic and its powerful system for printing metallics and special effects using flexography."
Developed for brand managers, product managers, corporations and advertising agencies, the Process Metallic Color System gives licensees the ability to differentiate themselves and their clients from the competition by simplifying the design and print production process and implementing eye-catching decorative effects into their branded products and associated collateral. The Color-Logic system is compatible with offset, inkjet, flexography, digital presses, screen printing, and gravure processes. It is ideal for packaging, pouches, direct mail, point-of-purchase material, signage, post cards, literature, booklets, labels, shrink sleeves, calendars and much more.
Color-Logic™ develops color communication systems and software tool sets for a variety of special effect printing applications. Color-Logic provides brand owners, product managers, corporations, and their advertising agencies the ability to differentiate themselves and their clients with a simple print production process that yields dramatic results. Color-Logic decorative effects utilize the existing workflows of printers and designers, yielding dynamic results without the use of special equipment. Color-Logic supports the value of print and works with designers and printers to enhance their printed media. For more information, visit www.color-logic.com or call +1-513-258-0047.