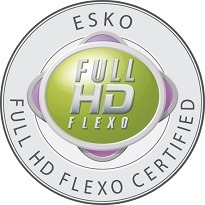 All Printing Resources (APR) and SpotOn! Press are pleased to report that their SpotOn! Flexo pressroom software has received Esko Full HD Flexo certification. Full HD Flexo is the new standard for flexo quality. Companies that are HD Flexo certified are among the best in their field. These companies are constantly innovating to offer the very best in flexo quality.
SpotOn! Flexo, is a leading-edge technology that makes it possible to get optimum color reproduction and density information for any spot color (including C,M,Y,K), right at your fingertips. It compares the spectral data of a color measured on a press pull (using a spectrophotometer) to the spectral data of the reference color. A quick calculation gives the press operator the optimal density to obtain the closest (lowest Delta E, or δE) match to the reference color.
"Full HD Flexo technology takes the Flexo print process to a new quality level that competes with offset lithography," says Richard Black, Director Digital Solutions of APR, "and SpotOn! Flexo helps the press operator take full advantage of the Full HD Flexo technology by providing critical color reproduction information."
Esko's Rory Marsoun, VP of Business Development, says, "We are excited to award SpotOn! With Full HD Flexo Certification. We only certify the highest quality products that we can guarantee will deliver the best results. SpotOn! helps Full HD Flexo and Equinox users achieve accurate and consistent color every day."
SpotOn! Flexo 2.6.0 is now available as a stand-alone (universal) version for either Mac OSX or PC. It is a single-user software that can be upgraded to the full Client-Server version at a later date.
About Esko Full HD Flexo
Esko Full HD Flexo allows printers to achieve gravure quality results with a flexo solution. Unlike other processes that require intermediate analog or manual exposure steps, Full HD Flexo is the first and only fully digital platemaking workflow in the industry. Full HD plates are prepared completely within an Esko CDI imager and are immediately ready for processing after unloading. The CDI combines plate imaging with inline digital main exposure in one and the same device. The digital Inline UV2 exposes through an LED-array light source delivering the necessary UV power density to assure full control over the polymerization process during exposure.
All UV exposure settings are digitally controlled within the platemaking workflow. This guarantees platemaking consistency – long-term stable and repeatable quality well beyond what is achievable with conventional UV exposure frames. Full HD Flexo works with all popular digital flexo plates and sleeves. Customers, vendors and partners can then attain Full HD Flexo certification when work meets published quality parameters. Esko Full HD Flexo Certifications are free and valid for two years.